SAVERIEN, Histoire des progrès de l'esprit humain, 1775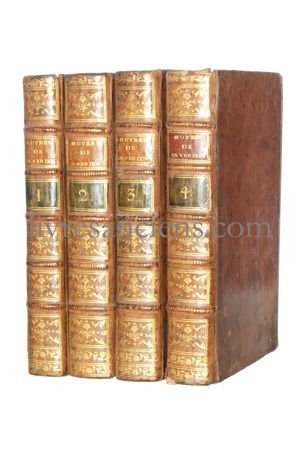 SAVERIEN, Alexandre.
Histoire des progrès de l'esprit humain dans les sciences naturelles et dans les arts qui en dépendent.
Paris, Lacombe, 1775-1778.
Four 8vo (196x123 mm), xv-(1)-402-(2) pages / xv-(1)-533-(3) pages / xiii-(3)-582 pages / xi-(1)-541-(5) pages. binding : Contemporary full calf, spine with six compartments. Upper joint of volume 1 splitting, waterstains at the end of volume 3 and at volume 4. Paper with strong foxings. Caps of volume 4 and corners chipped.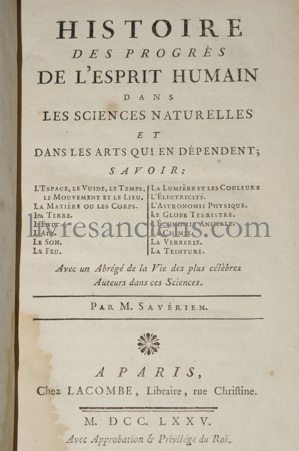 First edition.
Each volume is devoted to the history of a particular field of science with a biography of the main scientists in the discipline.
The first two volumes are devoted to the exact sciences (1776-1777), the third to the intellectual sciences (1777) and the fourth to natural history (1778). A completely new and fascinating historiographical approach to science at the time.
Price : 500 €