[SAVOIE] FAVRE, Monographie géologique et paléontologique du Salève, 1913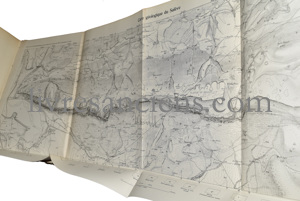 JOUKOWSKY, Etienne || FAVRE, Jules.
Monographie géologique et paléontologique du Salève.
Genève, Georg & Cie, 1913.
Folio (305x225 mm), (2)-[295-523] pages and 1 color geological map and 29 plates. binding : Contemporary quarter chagreen, flat spine. Joints rubbed.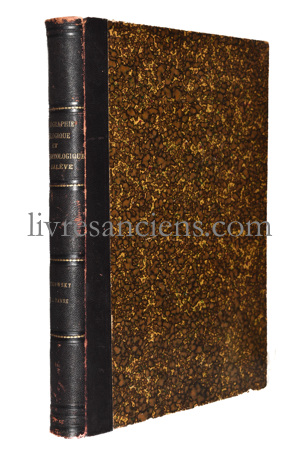 First edition.
Offprint with separate title page.
Presentation copy.

Remarkable work that reports on the geological and biostratigraphic work on the Saleve by Joukowski and Favre.
The authors propose 23 cross-sections of the Salève, oriented NW-SE, from the Petit Salève to the Montagne de La Caille, with identification of the geological stages and fault planes.

This work is still a reference today. Indeed, no other work of this importance on this subject has been published since.
A complete copy with the famous 1:25000 map, which remains the only document available for more than a century.
The publication in the "Archives des Sciences" of a new map was announced by B. Manstrangelo (Arch.Sci. (2018) 70: 43-50), but was still not published in the last issue (71. 2020).
Price : 2500 €