SUETONE, C. Suetonii Tranquilli XII Caesares, 1543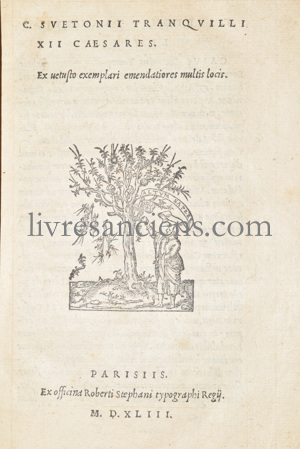 SUETONIUS.
XII Caesares. Ex vetusto exemplari emendatiores multis locis.
Paris, Robert Estienne, 1543.
Small 8vo (164x108 mm), (16)-352-(1)-(3 bl.) pages. Sign. : [a-z]8. binding : 18th century full morocco, gilt decorated flat spine. Dos passé.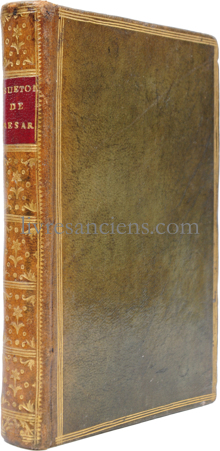 One of the most important old editions of the Life of the Twelve Caesars.
The text has been compiled from the best and oldest manuscript of the work, dating from the 9th century, together with comments by G. B. Cipelli, Erasmus's Notice to the Reader (1518) and translations of the Greek passages by Egnazio.
references: Brunet [V, 582], Renouard [Estienne, 58, n° 10].
provenance: Bookplate Edmond Stenheil.
Price : 1300 €