[TALLEYRAND] Chronique de Paris, ouvrage semi-périodique, littéraire, 1819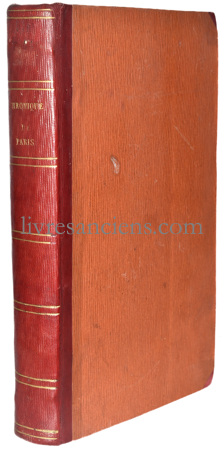 [MOSSE, J.-M].
Chronique de Paris, ou Le Spectateur moderne, contenant des tableaux des moeurs et usages, caractères, anecdotes et ridicules du jour ; des mélanges polémiques et critiques sur un grand nombre d'hommes de lettres et d'écrits de ce temps ; des révélations de plagiats ; des petites nouvelles et faits singuliers concernant les lettres, les beaux-arts, les théâtres, les journaux, les modes, etc.
Paris, Au bureau de la chronique, 1819.
8vo (192x124 mm),(1)-400-(1) pages (title page bound at the end). binding : Contemporary quarter morocco, flat spine.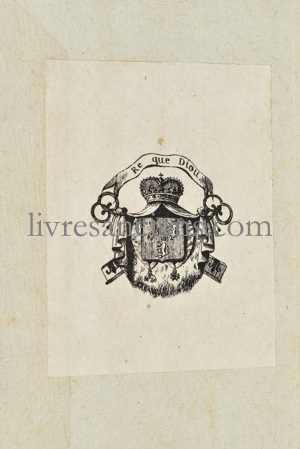 First edition.
Rare royalist gazette adorned with a beautiful plate of political caricature.
Our volume includes the first three issues, only published.
Talleyrand's copy.
provenance: Bookplate Talleyrand, Charles-Maurice de Talleyrand-Périgord (1754-1838) one of the most famous diplomat of the Empire.
Price : 250 €