[THESES DE MEDECINE] Recueil de 7 thèses , 1872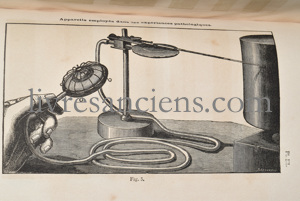 [THESES DE MEDECINE].
Recueil de 7 thèses pour le concours à l'agrégation.
s.l., s.n., 1872.
Strong 8vo (228x150 mm), 7 pieces. binding : Contemporary quarter sheep, flat spine. First cover allmost unbound.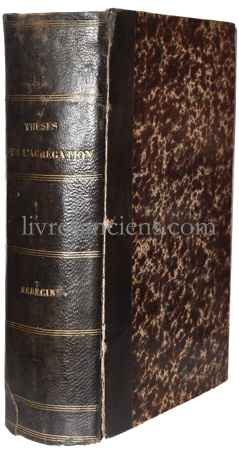 7 Theses defended in the competition for the aggregation of medicine

LANCEREAUX, De la Maladie expérimentale comparée à la maladie spontanée, 1872
DIEULAFOY, De la Contagion, 1872
DAMASCHINO, Etiologie de la tuberculose, 1872
HAYEM, Des Hémorrhagies intra-rachidiennes, 1872
DUJARDIN-BEAUMETZ, De la Myélite aigue, 1872
DUGUET, De l'Apoplexie pulmonaire, 1872
FERNET, Des Tremblements, 1872 (8 planches).
Sold