TOLET, Traité de la Lithotomie, 1708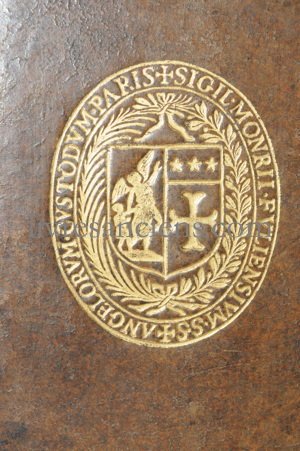 TOLET, François.
Traite de la Lithotomie ou l'Extraction de la Pierre hors de la vessie.
Paris, François H. Muguet, 1708.
12mo (165x95 mm), (20)-351-(1)pages and 19 plates. binding : Contemporary full calf, spine with six compartments. Covers gilden with arms of Pierre de Saint Basile Maigrot (priest in feuillant covent). Leather rubbed, restored on caps, corners and joints. Joints starting to split (few cm head and tail). Adhesive trace on first flyleaf.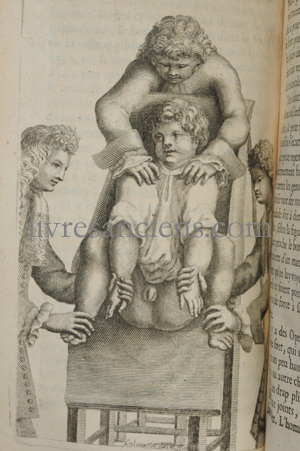 "Tolet, lithotomist at l'Hôpital de la Charité in Paris, first published this work in 1682. After many editions, this book remains as a classic contribution to the subject.[...] In Tolet's day lithotomy was one of the major and most dangerous of operations. Explicit directions are given for the operation in children as well as adults of both sexes. Particularly stressed is the need for careful restraint of the patient during surgery using strong assistants, straps, scarves, or cloths. The lesser and greater lateral perineal operations in men and women are described and illustrated. Among the many causes of the stone, the author named unleavened bread, waterfowl, curds, pap, old cheese, hard eggs, unripe fruits, the feet or legs of beef or pork, salted or spiced meats, and medicines which dehydrate the body. The plates depicted instruments, positioning of the patient, the use of the curved metal catheter, the making of the incision, and use of extracting clamps." (Heirs of Hippocrate).
The edition is illustrated with 18 plates drawn and engraved by Lalouette (instruments, operating positions, stones, etc.) and a portrait of Tolet by Maillet.
"François TOLLET (1647-1724) surgeon of King Louis XIV left a very didactic treatise on lithotomy. He helped to bring bladder size into a" regulated "surgery." (History of urology by the Association française d'urologie).
references: Dezemeiris [IV, 272].
provenance: Bookplate from Eugène Olivier the author of Manuel de l'amateur des reliures armoriées françaises.
Sold