VIRCHOW, La Pathologie cellulaire, 1861
VIRCHOW, Rudolf.
La Pathologie cellulaire basée sur l'étude physiologique et pathologique des tissus.
Paris, Baillière et fils, 1861.
8vo (204x134 mm), xxxi-416 pages. binding : Contemporary quarter sheep, flat spine. Binding slightly rubbed.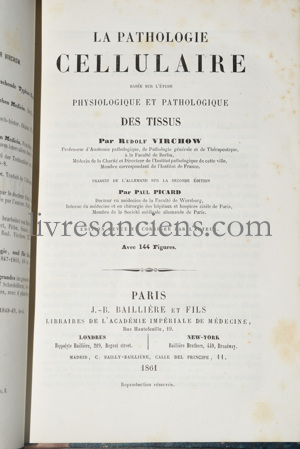 First edition in french.
Taken from the second German edition, this translation by Paul Picard was reviewed and corrected by Virchow.
Virchow is considered one of the founders of modern pathological anatomy.

Will be send with the following : "Rudolf Virchow un Berlin", 1985.
references: Garrison-Morton [2299 (first ed.) : "Virchow was the greatest figure in the history of pathology. His best work, Die cellularpathologie, is one of the most important books in the history of medicine and the foundation stone of cellular pathology"] Heirs of Hippocrates [1892].
Sold