WILLIS, Pathologiae cerebri, 1670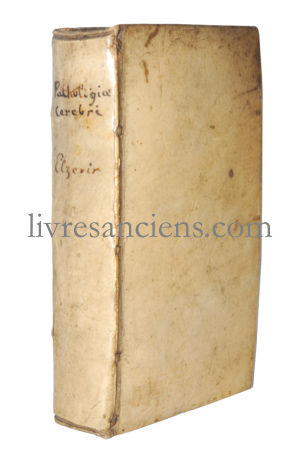 WILLIS, Thomas.
Pathologiae cerebri et nervosi generis specimen. In quo agitur de morbis convulsivis et de scorbuto studio.
Amsterdam, Daniel Elzevir, 1670.
16mo (130x79 mm), (12)-338-(19) pages. (portraict in text pages). binding : Contemporary full vellum, flat spine. Vellum slightly dirty.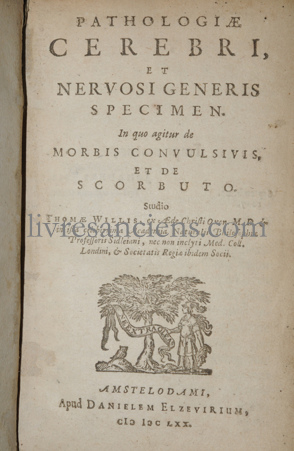 Thomas Willis is one of the pioneers of neuroanatomy and neuropathology, with this book he is one of the first to link psychological disorders and alterations in the structures of the brain.

"One of the earliest textbooks on nervous diseases " (Garrison's History of neurology).
references: Heirs of Hippocrates [539 :"Willis followed up his anatomical account of the brain with this important work on its pathology and neurophysiology, first published in 1667. In it he develops a new theory of the cause of epilepsy and other convulsive diseases, and he makes a number of contributions to psychiatry. A second part of the volume is Willis' treatise on scurvy. "].
provenance: Unidentified bookplate "Homo sum et.".
Price : 750 €