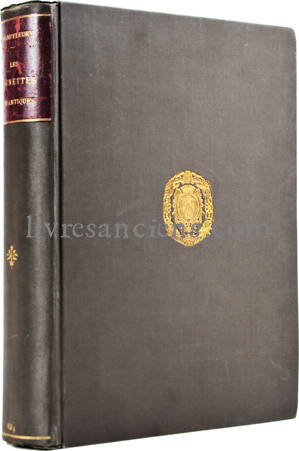 CHAMPFLEURY, Jules-François-Félix Husson, dit. Les Vignettes Romantiques - Histoire de la Littérature et de l'Art 1825-1840. 150 vignettes par Célestin Nanteuil, Tony Johannot, Devéria, Jeanron, Edouard May, Jean Gigoux, Camille Rogier, Achille Allier. Suivi d'un Catalogue complet des Romans, Drames, Poésies, ornés de vignettes de 1825 à 1840.
Paris, E. Dentu, 1883.
4to (320x229 mm), frontispiece, viii-438-(2) pages and 10 plates (with the frontispiece) on Japan paper. At the begenning of the volume, this copy is added with different documents such as preparatory tests for engravings, about ten letters addressed to Champfleury or from Champfleury to Paul Eudel or his publisher and 5 prints (2 ex-libris of Champfleury, 2 portraits of him and one caricature). This volume is provided with a cardboard folder, containing a subscription warrant, the very first printing of 16 engravings (+ 3 in duplicate and 1 in double state), including the 5 plates, then the retouched printing of 8 engravings, including the 7 plates (1 in double statet and another one in triple state), and the 9 plates (all except the frontipiece) in their final state. 8 of the 9 (not the 7 bis) with the handwritten printing orders "Bon à tirer" and Champfleury's signature. binding : Contemporary full cloth, gilt arms of Paul Eudel on covers, flat spine, title in gilt on lettering-piece. Original printed wrappers bound in. Chemise (chipped) and quarter vellum slipcase for the additionnal plates.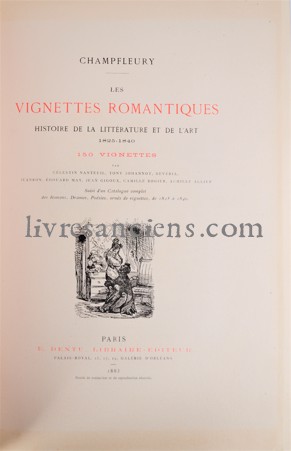 First edition.
One of the 100 copies on Holland paper (n°83), second paper after the 25 on Japan paper.

This book by Champfleury (1821-1889, writer, French art collector and curator at the Musée national de la céramique de Sèvres) gives us a History of French literature and Art at the Romantic era, a period of artistic effervescence in all fields.

The 150 vignettes highlight poems, novels, plays, social events, portraits and costumes of the most famous people from the time, such as Alexandre Dumas, Alfred de Musset, Devéria and Tony Johannot.
This book is a perfect summary of all that was done in the most interesting and beautiful part of the French Romantic period.


Copy of Paul Eudel, with arms on the covers.
Eudel was Champfleury's biographer and published "Champfleury, sa vie, son oeuvre et ses collections" in 1891. The relationship between these two scholars was nourished by their common passion and interest in Art. Indeed, Paul Eudel was a shipowner, a merchant, but he was mainly recognized as an art collector and worked as an art critic. The two men met when Champfleury was curator at the Musée national de la céramique de Sèvres.


Unique copy, with about ten letters added from Chamfleury or addressed to Champfleury, which all deal with this book, from the beginning of the writting (letter addressed to his friend the publisher E. Dentu) to its reception by some of the artists mentioned in the book as Camille Rogier and by his friends.

In addition to these documents, there is a cardboard folder containing various states of some of the engravings, which illustrate the work in progress. Some of them are annotated by Champfleury himself, including the printing orders for 8 of the 10 plates.
references: Vicaire [II, 209], OHR [242 fer n°1].
provenance: Edm. Steinheil (ex-libris armorié).
Price : 1750 €