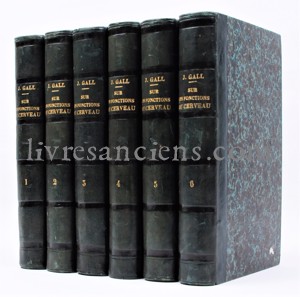 GALL, Franz Josef. Sur les fonctions du cerveau et sur celles de chacune de ses parties, avec des observations sur la possibilité de reconnaître les instincts, les penchans, les talens ou les dispositions morales et intellectuelles des hommes et des animaux, par la configuration de leur cerveau et de leur tête.
Paris, Chez l'auteur- Boucher - Bossange Père - Béchet Jeune - Delaforest, 1822-1823-1825.
Six 8vo (200x128 mm), vol. 1: (4)-vii-475 pages / vol. 2: (4)-524 pages / vol. 3: (2)-509 pages (lack of the title page) / vol. 4: (4)-473 pages / vol. 5: (4)-531 pages / vol. 6: xix-507 pages. binding : Contemporary quarter sheep, flat spine lettered in gilt. Very minor rubbings. Rare handwritten pencil notes. Vol. 2: A waterstain at the very end of the volume and one tear without lack of paper on page 373. Vol. 3: Three waterstains on some pages and one tear with a lack of paper in margin of page 501. Author's signature on the verso of the half-title page to avoid imitation, except on volume 3.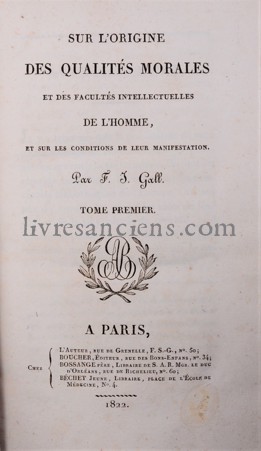 Second revised and expanded edition.

Franz Joseph Gall (1758-1828) was a German doctor, considered to be the founder of phrenology, who aimed to detect the faculties and inclinations of men by palpating the relief of the skull.
references: Garrison-Morton [1389, (first ed. 1800): " Introduced the theory of localization of cerebral function, although in a somewhat fantastic form. This pioneer attempt to map out the cerebral cortex according to function gave rise to the pseudo-science of phrenology. The work also contains some important additions to the knowledge of cerebral anatomy. Gall and Spurzheim ended their collaboration after the first 146pp. of Vol. 2. The remainder was written by Gall alone. The first edition was issued in two formats: (1) text and atlas all in folio and (2) text in quarto and atlas in folio. The second edition was revised by Gall, and published without the plates, but with a collection of replies to his critics as Sur les fonctions du cerveau et sur celles de chacune de ses parties. 6 vols., 8vo, Paris, l'Auteur, 1822-25."].
provenance: ACAR, Pharmacien, à Ham, (Somme.) (bookplate).
Price : 500 €