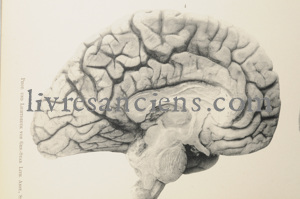 RETZIUS, Gustaf. Das Menschenhirn, Studien in der Mikroskopischen morphologie (Text und Atlas).
Stockholm, Norstedt & Sonner, 1896.
Two Folio (390x300 mm), (2)-viii-167 pages / (2)-96 plates with explanation. binding : Contemporary half cloth, lettering pieces chipped. Covers rubbed and scratched, lack on the edge of the covers of the atlas. Dirty cloth. Fresh paper, the protecting leaves are for the most of them detached.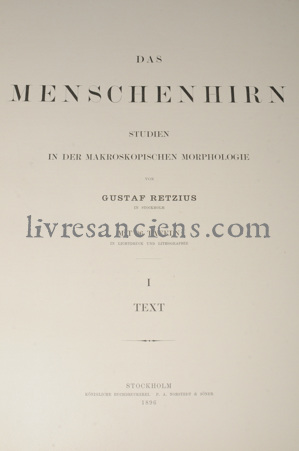 First edition

Very important atlas of neurological structures of the brain

Sending of the author (unsigned) to Professor Louis Antoine Ranvier (1835-1922) also eminent histologist of the brain.
references: Garrison [1426 : "Retzius studied a large series of subprimate, simian, and human brains, and clarified some of the more difficult problems of cerebral morphology."].
Price : 950 €