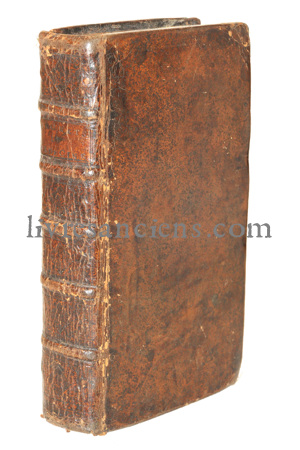 D'AUVERGNE, Anne marie. Recueil de secrets touchant la médecine eprouvez en quantité de maux qui arrivent au corps humain.
Paris, Michel Vaugon, 1692.
12mo (205x145 mm), 468-(52)-12 pages. binding : Contemporary full brown sheep, spine in six compartments. Binding rubbed, giltens on the spine faded. Foxings, marbled paper renewed and first booklet glued, few handwritten marginalia.Ink dirty in the back of the title page. Leaf 367 is almost unbound.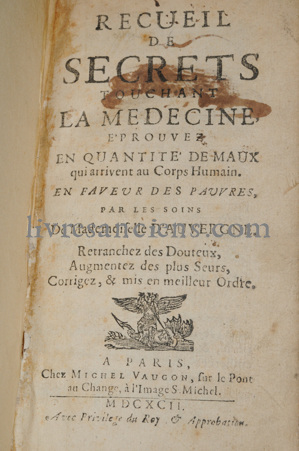 Second edition.
Work in the tradition of those for ladies of charity who took care of the medicine of the poor.

At the end, we find 12 pages on "Emplatres de Mademoiselle Le Brun".
references: Olivier Lafont [in. Les thériaques dans les ouvrages charitables aux XVIIe et XVIIIe siècles, Revue d'Histoire de la Pharmacie, 2010].
Price : 650 €