HAUKSBEE, Francis. Experiences physico-mechaniques sur différens sujets, et principalement sur la lumiere et l'electricité, produites par le frottement des corps.
Paris, Veuve Cavelier, 1754.
Two volumes 12mo (170x95 mm), clxxvi-490-(2) pages and 5 plates / (2)-596 pages and 2 plates. binding : Contemporary full sheep, gilt flat spine. Rubbed, corners bumped. Little loss of leather on spine of the volume II. Foxings principally on first and last pages.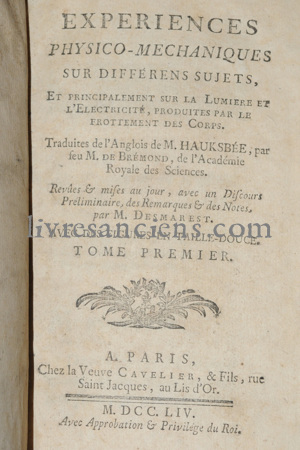 12mo printed the same year of the first french edition.
Translation by Brémont and prefaced by Desmarets of the experiments of Francis Hauksbee (1660-1713) English physicist who worked in particular on static electricity.
He is one of the pioneers of electroluminescence and the majority of the work is devoted to his experiences of light production by the friction of various materials (including various phosphorus) on his static electricity production machine.
references: DSB [VI, p.169 :""Hauksbee is remembered for his experiments on electroluminescence, static electricity, and capillarity. His discoveries were first published in a series of papers in the Society's Philosophical Transactions and finally brought together in his Physico-Mechanical Exeperiments on various subsjects. Translated into Italian, Dutch, and French, Hausbee's book was widely read in the eighteenth century"].
Sold