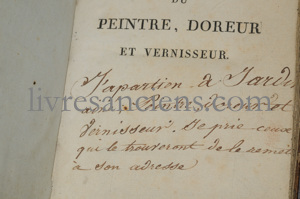 WATIN, Jean Félix || BOURGEOIS, Charles. L'Art du peintre, doreur et vernisseur.
Paris, Belin-Leprieur, 1819.
8vo (195x125 mm), xii-428 pages. binding : Contemporary quarter vellum, flat spine. Dirty binding. Booklets misaligned, foxings.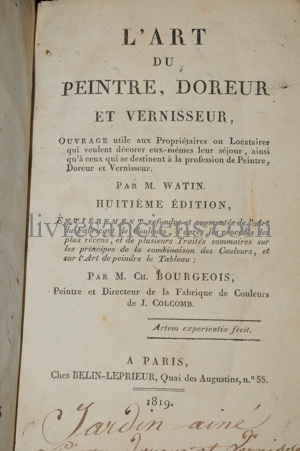 "Useful book for owners or tenants who want to decorate their living room themselves, as well as to those who intend to work as a Painter, Gilder and Vernisseur".

Completely revised and expanded edition of the Art of the Color Maker by Charles Bourgeois. At the end of the book we find the short memoir on China Varnish by D'Incarville.
provenance: Handwritten ex libris on half title and verso of the title of Pierre Gustave Jardin (or Tardin?) Apprentice painter of the Ile de Ré in 1820.
Sold