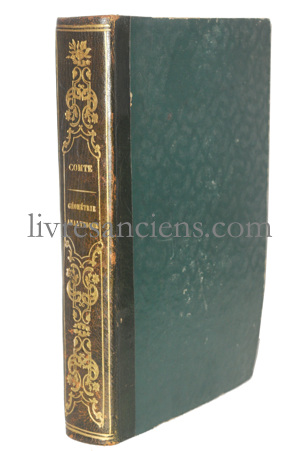 COMTE, Auguste. Traité élémentaire de géométrie analytique à deux et à trois dimensions, contenant toutes les théories générales de géométrie accessibles à l'analyse ordinaire.
Paris, Carillian-Goeury et Dalmont, mars 1843.
8vo (210x130 mm), viii-598 pages and 3 foldings plates. binding : Contemporary quarter sheep, flat spine romantic gilden. Binding slightly rubbed, paper with foxings.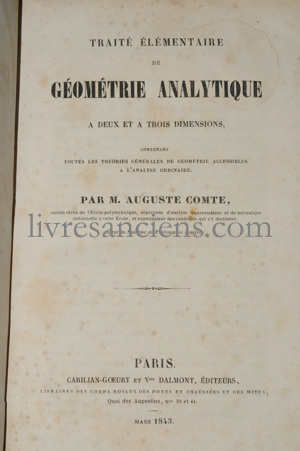 First edition.
Auguste Comte, who is known above all for his positive philosophy which has left a major imprint in the history of ideas, was a mathematics tutor and examiner for the polytechnic school. "We can, in a word, look at the whole of this program as giving a fair general idea of the specific destination of each of the 120 lessons that I do annually, from November 1 to May 1, in the above establishment. designated (ie Ecole Polytechnique) "(extract from the preface).
Price : 200 €