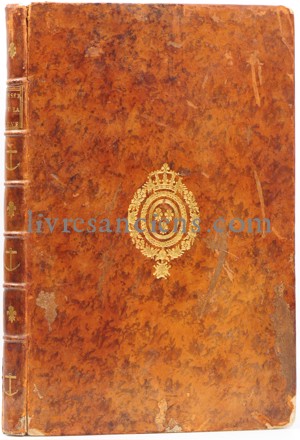 LE MONNIER, Pierre-Charles. Observations de la lune, du soleil et des étoiles fixes, pour servir à la physique céleste et aux usages de la navigation, où l'on donne le mouvement de la lune en ascension droite, déterminé indépendamment de la parallaxe, et les nouvelles recherches pour constater l'inclinaison de l'orbite lunaire au plan de l'écliptique.
Paris, Imprimerie royale, 1751-54-59-73.
Four parts bound in one Folio (393x251), viii-59-(1 bl.) / xii-56 /xi-(1 bl.)-60 / viii-60 pages. binding : Contemporary full mottled sheep, gilt arms of Louis XV on covers, spine gilt in seven compartments, title in gilt on lettering-piece, red edges. Binding very rubbed, caps and corners worn, joints splitting. Stamp (?) finely scraped on title page.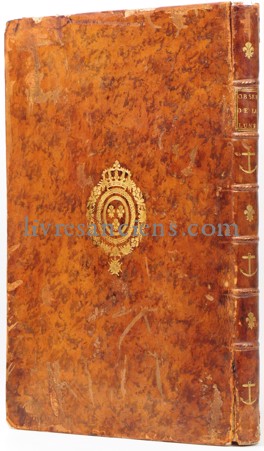 references: Biographical Encyclopedia of Astronomers [p.799-800 : "Le Monnier's work on lunar motion was the most extensive and the most important of his time"], Chapront-Touzé [in Revue d'Histoire des sciences, 2008/1 p. 89-104].
Sold