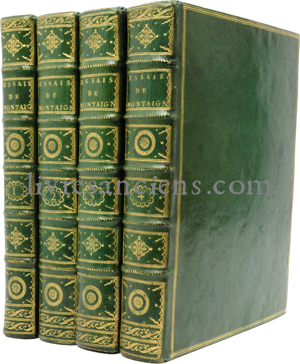 MONTAIGNE, Michel de. Les Essais. Nouvelle édition faite sur les plus anciennes & les plus correctes : augmentée de quelques lettres de l'auteur... Par Pierre Coste.
[Suivi de :]
Montaigne, Michel de. Journal du voyage de Michel de Montaigne en Italie, par la suisse & l'Allemagne, en 1580 & 1581. Rome et se trouve à Paris, Le Jay, 1774.
Londres, J. Tonson & J. Watts, 1724.
Two works bound in four 4to (271x213 mm),I/ portrait, (4)-xvi-(8)-363-(1 bl.)-(12) pages II/ (2)-538-(14) pages III/ (2)-411-(12)-(1 bl.)-(2)-xviii-95-(1 bl.) pages IV/ portrait, (8)-liv-416 pages. binding : Contemporary full green morocco, triple gilt fillet on covers, spine gilt in six compartments, title in gilt on lettering-piece, gilt edges. Foxing.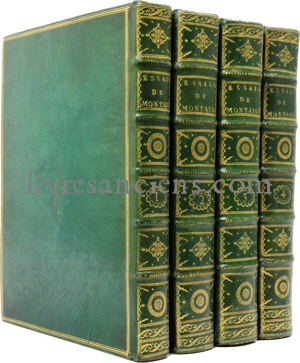 Fine copy in green contemporary morocco of the first Coste edition (one of the best and most beautifull according Tchemerzine) of the Essay and the first quarto edition of the "Journal du voyage en Italie" from Montaigne.
references: Tchemerzine [Les essais : IV, p.909 : "L"une des plus belles éditions de Montaigne, la première qu'ait donné Pierre Coste. Il faut y joindre un supplément paru à Londres en 1740"], Tchemerzine [Journal du voyage en Italie: IV, p.914 : "Edition parue presque en même temps que l'édition in-12"].
Price : 12000 €