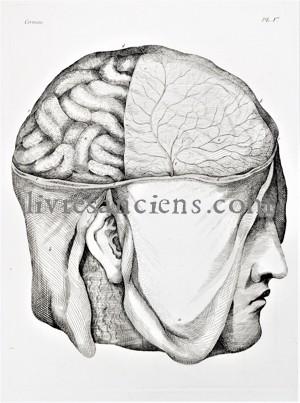 VICQ D'AZYR, Félix. Oeuvres.
Paris, Duprat-Duverger, An XIII - 1805.
One Folio atlas (335x253 mm), (2) pages and 39 plates (8 are double page) and six text volumes (198x128 mm), V1 : frontispiece, (6)-xi-(1 bl.)-88-332-(2) pages / V2 : (4)-446-(2) pages / V3 : (4)-444 (i.e. 442) pages / V4 : (4)-410 pages. Lacking, as often, the folding table in Vol. IV / V5 : (4)-472 pages / V6 : (4)-560 pages. binding : Contemporary quarter red straight-grained morocco, flat spine. Binding a little worn, corners bumped. Some foxing.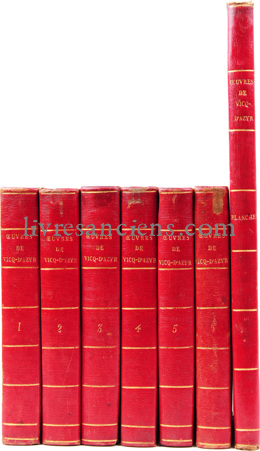 First collective edition.
references: Garrison & Morton [313 : "Vicq d'Azyr has been called the greatest comparative anatomist of the 18th century. The mamillo-thalamic tract is named the "bundle of Vicq d'Azyr""], Heirs of Hippocrates [1074 : "This posthumous work is the only collected edition of all the works of Vicq d'Azyr. In the biographical essay by the editor, Jacques Louis Moreau de la Sarthe (1771-1826), one learns that Vicq d'Azyr died of pulmonary congestion following the fatigue and anxiety of his ordeals during the French Revolution. The first three volumes of this set contain his Éloges historiques on the lives of great naturalists, chemists, and physicians. The next two volumes comprise his important studies in comparative anatomy including those on the flexor and extensor muscles of man and animals, the vocal cords, and the structure of birds and quadrupeds. The final volume contains the second edition of his Traité d'anatomie et de physiologie (Paris, 1786) of which only the first volume was ever published. The atlas contains thirty-nine plates devoted almost exclusively to neuroanatomy"].
Price : 3500 €