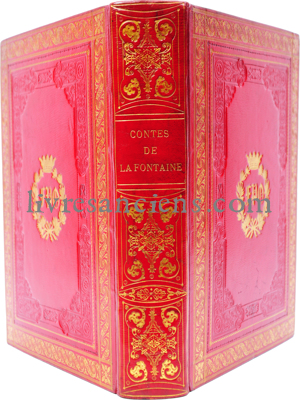 LA FONTAINE, Jean de || FRAGONARD, Jean-Honoré. Contes et nouvelles en vers.
Paris, Imprimerie de Didot l'aîné, 1795.
4to (283x223 mm), vii-(1)-280-(2) pages / (4)-334 pages and 20 plates. binding : Full red morocco, gilt border on covers, gilt arms on covers, gilt flat spine, gilt edges. Minor rubbings. Some foxing.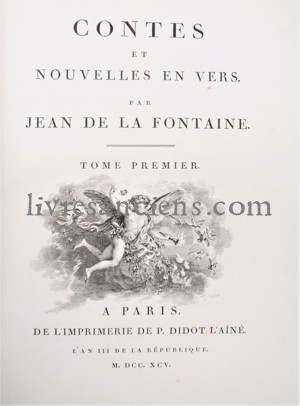 Famous edition illustrated after Fragonard and one of the most remarkable books of the late eighteenth century.

Due to the revolution, there was only two deliveries of the engravings.
On these 20 engravings published, all for the first volumes, sixteen are after Fragonard, two after Touzé, one by Mallet and one by Monet.

Our copy contains the 20 figures with the letter, without the floret on the title of the second part, particularity of the first issue of the text.

Rare copy, bound in red morocco, with gilt arms of the Duke of Orleans, first son of King Louis Philippe.
references: OHR [2580_6], Cohen [573].
Price : 9500 €