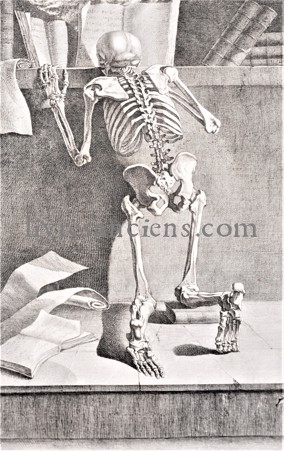 GAMELIN, Jacques. Nouveau recueil d'ostéologie et de myologie.
Toulouse, J. F. Desclassan, 1779.
Two parts bound in one large Folio (526x411 mm), I. (26) leaves (including title and prospectus), frontispiece, portrait and 41 plates / II. (13) leaves (including title and privilege), frontispiece and 41 plates. binding : Contemporary full calf, gilt flat spine, title in gilt on lettering-piece, red edges. Binding a little rubbed. Some browned leaves. A large stain on the blank upper margin of a text leaf has been blurred. Overall a very good copy.
First edition. Only 200 copies were printed.
Copy well complete, with all plates and the rare prospectus leaf.
Although predominantly anatomical, the plates include a number of fantastic or macabre subjects, which are considered to prefigure Goya's Los Caprichos.
Very rare.
references: Norman [872 : "Gamelin is acknoledged as one of the "little maters" of French eighteenth-century painting. The plates for the anatomical atlas, issued in an edition of only 200 copies, were prepared from drawings made at his own dissection facility; they are distinct from the plates of other works of its type, being larger, more artistically varied, and more expressive and fantastic in their conceptions. Gamelin's plates show a constant interplay between the artistic and the anatomic ... Gamelin's technical perfection, coupled with the emotional and fantastical elements in his images, have led him to be seen as a precursor of Goya"], Garisson [401.1 : "Without contest the most beautiful of all anatomies for the artist and one of the most remarkable books of its time" (Hahn & Dumaitre). The plates in this work are more fantastic than any other anatomy, suggesting the work of Goya, who may have known or studied with Gamelin since Gamelin taught in Rome during the time Goya was there.].
Price : 25000 €