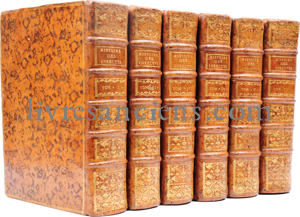 RÉAUMUR, René-Antoine Ferchault de. Mémoires pour servir à l'histoire des insectes.
Paris, Imprimerie Royale, 1734-1742.
Six 4to (251x191 mm), P1 : (6)-654 pages and 50 plates / P2 : (4)-xlvi-(2)-514 pages and 40 plates / P3 : (4)-xl-532 pages and 47 plates / P4 : xxxiv-(2)-636 pages and 44 plates / P5 : (4)-xliv-728 pages and 38 plates / P6 : (4)-lxxx-608 pages and 48 plates. Complete with 267 plates. binding : Contemporary full mottled calf, spine gilt in six compartments, title and volume number in gilt on lettering-pieces, red edges, marbled endpapers. Some caps and corners a little chipped. Upper cover of part 3 a rubbed. Minor foxing.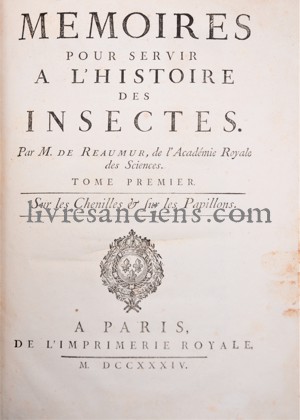 First edition.
Reaumur was a pioneer in Entomological Reasearch.
A very good copy.
references: Sparrow [Milestones of sciences, 169], Dibner [Heralds of sciences, 192], En Français dans le Texte [145 : ""fondateur de la science entomologique"], DSB [XII, p. 331 : "Réaumur was among the greatest naturalists of his or any ages .. Réaumur's greatest work in natural history was his Mémoires pour servir à l'histoire des insectes"].
Price : 3000 €