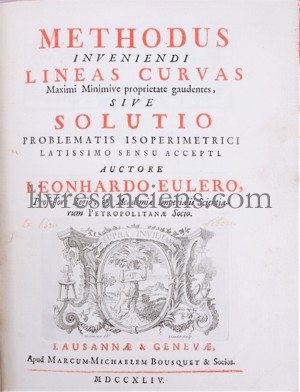 EULER, Léonard. Methodus Inveniendi Lineas Curvas maximi minimive proprietas gaudentes, sive Solution problematis isoperimetrici.
Lausannae & Genevae, Marcum-Michaelem Bousquet, 1744.
4to 238x187 mm) (2)-322-(2) pages and 5 folding plates. binding : Contemporary full mottle calf, spine gilt in six compartments, red edges, marbled endpapers. Binding a little rubbed. Paper washed and carefull repairs on margins.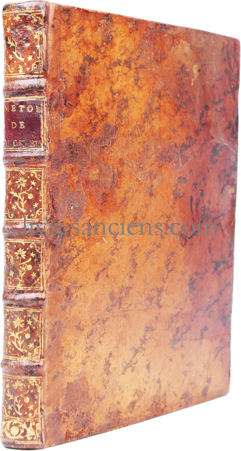 First edition of this milestone work for the calculus of variations.
references: Norman [731, "With the publication of this work, the calculus of variations came into being a new branch of mathematics. Euler was the first to formulate the principal problems of the calculus of variations and to create general methods for their solution"], Sparrox ["Millestones of Science", n° 60], Horblit [28 : "Creation of the calculus of variations" ].
provenance: Lebouer (?) (manuscript ex libris on title page).
Price : 4000 €