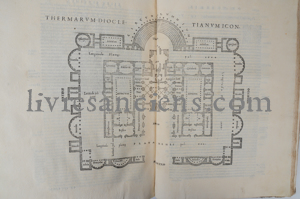 BACCI, Andrea. De thermis libri septem. In quo agitur de universa aquarum natura, deque earum differentiis omnibus, ac mistionibus cum terris, cum ignibus, cum metallis.
Venise, Felicem Valgrisum, 1588.
Folio (347x243 mm), (47)-(1 bl.)-492-(2) pages. binding : Contemporary full limp vellum. Spine very worn with lack of vellum. Very fesh copy, with only pages 270-271 a little soiled.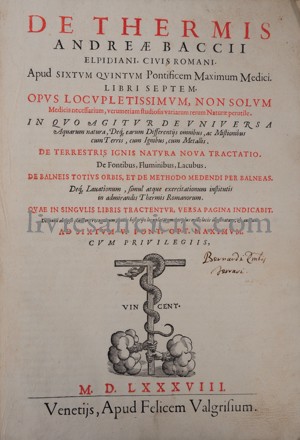 Second enlarged edition.
references: Neville [I, 55 : "Bacci quotes many ancient authors and states that some mineral waters contain sulphur, alum, metals, salts, soda, vitriols, bitumes, and petroleum, while ohters contains gold, tin, lead, and zinc.
Wines and their medical uses are also discussed, as are analytical chemical tests."], Duveen, [ed. 1571 : "This is a classic work on mineral waters, dealing with all the spas of the then known world"].
provenance: Bernardi Emlis (?) (ownership inscription on title).
Price : 550 €