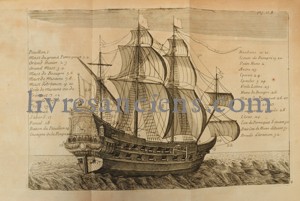 OZANAM, Jacques. Dictionnaire mathématique, ou idée générale des mathématiques. Dans lequel l'on trouve, outre les termes de cette science, plusieurs termes des arts des autres sciences ; avec des raisonnemens qui conduisent peu à peu l'esprit à une connoissance universelle des Mathématiques.
Paris, Estienne Michallet, 1691.
4to (250x194 mm), (10)-672-(68) and 22 plates, numberred 1 to 24 (Complete, no 2 and 3 as on all copies we have checked). binding : Contemporary full calf, spine gilt in six compartments. Caps and corners worn, upper joint spliting.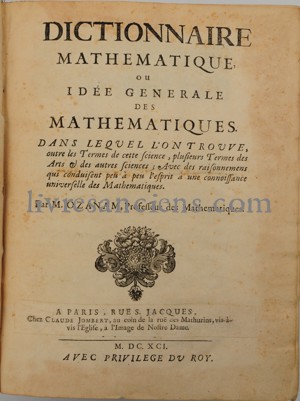 First edition with resale label of Claude Jombert on title page.
The dictionnary is divided into sections dealing with subjects such as arithmetic, algebra, geometry, cosmography, astronomy, navigation, optics, perspective, mechanics, hydrostatics, architecture, fortification and music.
Price : 500 €