HELMONT, Jean Baptiste van. Les Oeuvres de Jean Baptiste Van Helmont Traittant des Principes de Médecine et Physique pour la guerison assurée des Maladies : de la traduction de M. Jean le Conte.
Lyon, Jean Antoine Huguetan, 1670.
4to (226x161 mm), (8)-396 pages. binding : Contemporary full sheep, spine gilt in six compartments lettered in gilt. Caps with old repairs, corners worn, spine rubbed. Foxing, light waterstains. Three leaves with old repairs on the lower margin.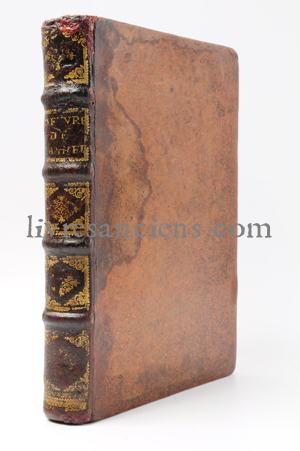 First edition in french of th works of Helmont, and rare first issue with the date 1670.
references: Heirs of Hippocrates [410 : "The french translation published in 1671 is frequently described as the first because copies of the first issue of 1670 are extremely rare"], Norman [I, 1048 (first ed. in latin) : "he is best remembered as the discover of gas"].
Price : 850 €