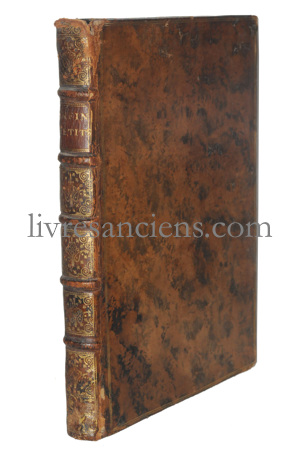 STONE, Edmund. Analise des infiniments petits comprenant le calcul intégral dans toute son étendue; avec son application aux quadratures, rectifications, cubatures, centres de gravité, de percussion, &c. de toutes sortes de courbes.
Paris, Julien Michel Gandouin, 1735.
4to (260x190 mm), civ-162-(1)-(1bl.) pages and 4 folding plates. binding : Contemporary full calf, spin with six compartments. Binding rubbed, headcap worn, corners bumped. Foxings on plates. Waterstain at the end.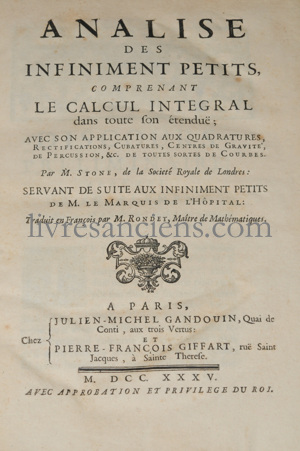 First edition in French.
Translation in French by Rondet of the Method of Fluxions published in English in 1730.
Stone participated in the spread of differential calculus in Europe following Leibniz, Bernouilli and L'Hospital.
In this book Stone continues the work of the Marquis de L'Hospital on the infinitesimal calculus.
The long introductory speech written by Louis-Bertrand Castel is devoted to Stone and the history of this completely innovative method of calculation.
provenance: Bookplate from André Brochant du Breuil (1771-1778).
Price : 900 €