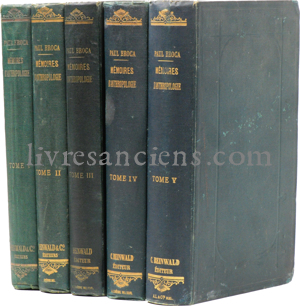 BROCA, Paul. Mémoires d'anthropologie.
Paris, Reinwald, 1871-88.
Five 8vo (221x138 mm), P1 : (4)-iv-544-(2)-(2) pages, 2 plates and 3 maps, P2 : (4)-576-(22)-2) pages, 3 plates and one map, P3 : viii-633-(1 bl.)-(20) pages and 2 plates, T4 : (6)-794-(20) pages and one plate, P5 : xxii-840 pages. binding : Contemporary full printer cloth. Bindings a litte rubbed. Minor foxing.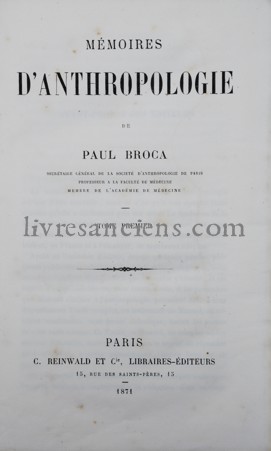 First edition, scarce with the fourth and fifth volumes, published after the death of Broca.
references: Garrison & Morton [169 (Three first volumes only) : "Broca was among the greatest of the French anthropologist. He originates modern craniometry and in that connection devised many craniometric and cranioscopic instruments"], DSB [II, p. 477 : "His interrests later turned to anthropology, and he was one of the outstanding pioneers of the new discipline"], En Français dans le Texte [283 :"Créateur de l'anthropologie française, et pionnier dans cette discipline, il lui assura une place de premier plan et un haut niveau scientifique."].
Price : 2200 €