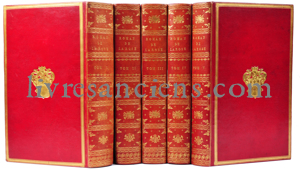 LORRIS, Guillaume de || MEUNG, Jean de. Le Roman de la Rose. Edition faite sur celle de Lenglet Dufresnoy, corrigée avec soin, et enrichie de la dissertation sur les auteurs de l'ouvrage, de l'analyse, des variantes et du glossaire publiés en 1737 par J.-B. Lantin de Damerey.
Paris, Fournier et Fils F. Didot, An VII (1799).
Five 8vo (254x160 mm), frontispiece, 435 pages / 410 pages / (4)-365 pages / (4)-352 pages / (4)-352 pages and 3 etches, in double state, before letter. binding : Contemporary full red morocco, triple gilt fillet on covers, gilt arms on covers, gilt flat spine, gilt edges (bound by Bradel). Spines a little fadded. Minor foxing.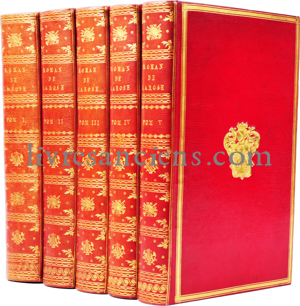 One of the 90 copies on large vellum paper wih portrait and engravings in two states.

Fine binding from Bradel l'Aîné.
provenance: Guillaume Pavée de Vendeuvre (1779-1870), arms on covers.
Price : 4500 €