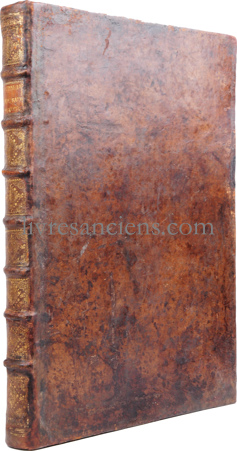 COWPER, William. Anatomia corporum humanorum centum et quatuordecim tabulis singulari artificio, nec minori elegantia ab excellentissimis, qui in Europa sunt, artificibus ad vivum expressis, atque in aes incisis illustrata amplius explicata, multisque novis anatomicis inventis, chirurgicisque observationibus accedunt ejusdem introduction in oeconomiam animalium & index in totum opus. Omnia nunc primum latinitate donata. Curante Guilielmo Dundass, Britanno M.D. - Appendix, repraesentans externos musculos et diversas partes corporis humani quae vel omissa erant, vel non bene expressa in praecedentibus tabulis. Delineata ad vivum.
Lugduni batavorum, Joannem Arnoldum Langerak, 1739.
Elephant Folio (514x362 mm), extra engraved title, (138) pages and 114 plates / [supplement] : (6) pages and 5 engraved plates on 4 (the last 2 plates on a single sheet). binding : Contemporary full calf, spine gilt in eight compartments. Binding finely repaired.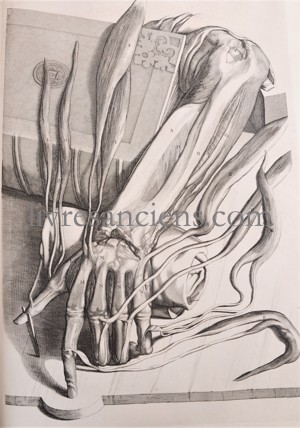 First latin edition of one of the most beautiful anatomical atlas of the eighteen century.
Bound in our copy, the supplement with 5 additional plates, published in 1750 for the second latin edition.
references: Heirs of Hippocrates [725 : "The atlas is a handsome production, with its life-sized copperplates and striking engraved title page"], Choulant-Frank [pp. 252-3].
Price : 8500 €