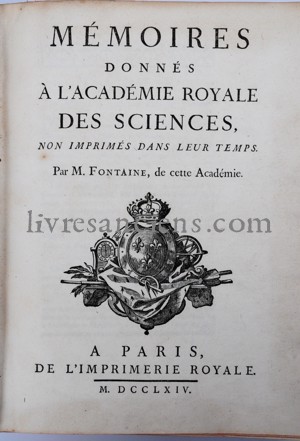 FONTAINE Des BERTINS, Alexis. Mémoires donnés à l'académie royale des sciences non imprimés dans leur temps, par M.Fontaine, de cette académie.
Paris, Imprimerie Royale, 1764.
4to (256x197 mm), (8)-588 pages, 8 folding plates and 2 tables. binding : Contemporary full calf, triple gilt fillet on covers, spine gilt in six compartments, title in gilt on lettering-piece, red edges, marbled endpapers. Binding very rubbed, joint split with lack of leather but sound. A fresh copy despite very few light waterstains at the end.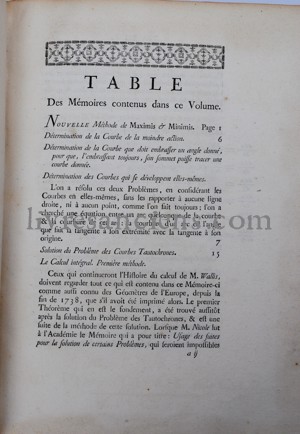 First edition.
Twelve memories, dealing essentially with infinitesimal geometry, integral calculus, mechanics, and astronomy.
references: DSB [V pp. 54-55 : "Fontaine studied at the College de Tournon before his introduction to mathematics at Paris under the guidance of Pere Castel.
(...he ) presented several memoirs to the Academie des Sciences, which admitted him as 'adjoint mecanicien' on 11 June 1733. Although promoted to geometer in 1739 and to pensionary geometer in 1742, Fontaine rarely participated in the work of the Academie and led a rather solitary existence.
A difficult personality, he showed almost no interest in the work of others and incurred considerable enimity by clainming priority in certain discoveries.
(...) ) Fontaine's work is of limited scope, often obscure, and wilfully ignorant of the contributions of other mathematicians. Nevertheless, its inspiration is often original and it presents, amid confused developments, a number of ideas that proved fertile, especially in the fields of calculus of variations, of differential equations, and of the theory of equations.
(...) In his ('Memoires') of 1764 Fontaine included a study of dynamics dated 1739 and based a principle closely analagous to the one that d'Alembert had made the foundation of his treatise of 1743.
Although Fontaine did not raise any claim of priority, he attracted the hostility of a powerufl rival who subsequently took pains to destroy the reputation of his work, which--without being ofthe first rank--still merits mention for its original inspiration and for certain fecund ideas that it contains."].
Price : 750 €