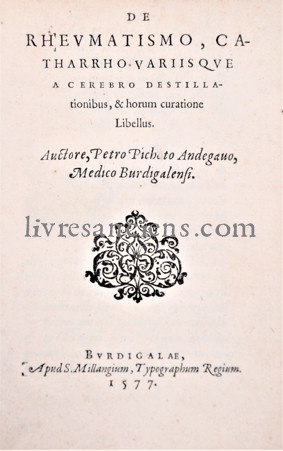 PICHOTUS, Petrus. De rheumatismo, catharrho variisque a cerebro destillationibus, & horum curatione Libellus.
Burdigalae, S. Millangium, 1577.
Small 8vo (147x99 mm), 252 (i.e. 248)-(8) pages. Some pagination mistake, but absulotly complete. Sig. [A-Q]8. binding : Old full limp vellum. Loosing binding. Some foxing. Minor lack in lower margin of page 19.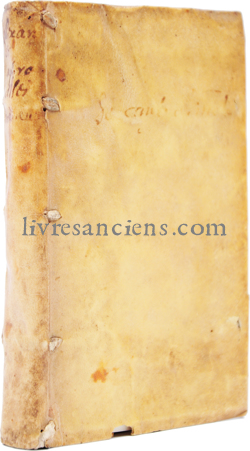 Rare first edition.
It's the first use of the word "rheumatism".
The root 'rheum' refers to bodily fluids rather than 'rheumatism' as we know it today.
This book is about curing the common cold, rather than ailments of the joints.
references: Garrison [4485 (Baillou, 1642) : "a use of the word rheumatism as early as 1577: Petrus Pichotus. De rheumatismo . . . , Bordeaux, 1577."].
Price : 900 €