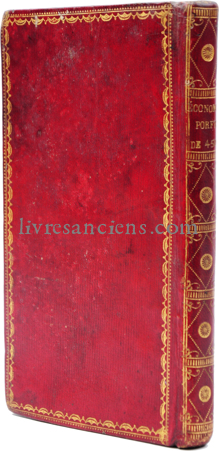 COUTAN. Le Grand Oeuvre dévoilé en faveur des enfans de la Lumière.
Paris, Delalin, 1775.
Three works bound in one 12mo (159x94 mm), (2)-45-(3) pages / 37-(3 bl.) pages / 72 pages. binding : Later (ca.1810) full morocco, gilt border on covers, flat spine lettered in gilt. Minor stains to the binding. Strong waterstain. Paper weakened, especially at the beginning, but also affecting, even lesser the last and the more important work.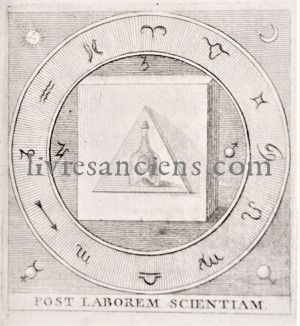 III. Scarce first edition of the "Grand oeuvre dévoilée".

First are bound two other works :
I. LE CHOYSELAT, Prudent. Discours oeconomique, non moins utile que recreatif, monstrant comme de cinq cens livres pour une foys employées, l'on peult tirer par an quatre mil cinq cens livres de proffict honneste, qui est le moyen de faire profier son argent. Rouen: Martin le Menestrier, 1612 [but c. 1745].
II. LE BRETON. Divers Objets d'économie rurale et domestique. Chez l'Auteur. Paris [1788].
references: Caillet [I, 2672], Guaita [196 : "Vignette magique gravée sur le titre"], Duveen [p.147 : "The work is an original satire against alchemy and appears to be very rare"].
Price : 950 €