MONRO, Alexander || [THIROUX D'ARCONVILLE, Marie Geneviève]. Traité d'ostéologie, traduit de l'Anglois de M. Monro, où l'on a ajouté des planches en taille-douce, qui répresentent au naturel tous les os de l'adulte & du foetus, avec leurs explications par M. Sue.
Paris, Guillaume Cavelier, 1759.
Two large Folio (550x411 mm), frontispiece, (2)-xxxii-212 pages / (2)-[213] à 317-1bl.) pages and 62 plates (numberred XXXI, 31 plates, each with a facing outline plate). binding : Contemporary full mottled calf, triple gilt fillet on covers. Binding strongly rubbed with some lacks on covers. Some plates and text leaves browned.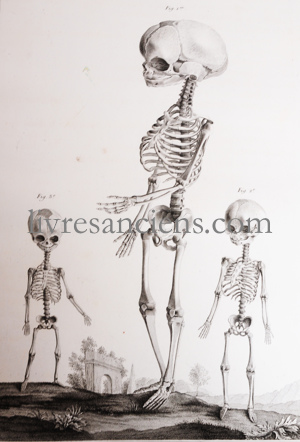 First edition in french (first edition in english published in 1726, in small octavo and without plates.
Translated by a women, Marie d'Arconville.
This is the first anatomical work produced by a woman.
references: Choulant [p. 324 : "These plates represent whole skeletons, or single bones, the latter either in natural size or in sizes very near the natural. The workmanship is very fine, especially as regards the single bones."], Russell [in British Anatomy 1525-1800, 590 : " "This translation . . . is a most sumptuous production, completely overshadowing the original. "], Schiebinger [in. The Mind Has No Sex?, pp. 248-49 : "Though d Arconville's Ostéologie was published under Sue's protection, both the translation and illustrations are hers, as is made clear in the preface republished among her collected works in 1775"].
Price : 3400 €